So this is actually the same kid as I referred to
here
. This actually happened today so I thought I'd write this whilst it's still fresh in my memory.
To give you a background story about this kid, he's the worst kid in the school at the moment. He's mother begged me to allow him to join my Football (Soccer) after school club on the condition that he'd behave generally throughout the school. The school is split into three:
Lower School - Consists of 3-9 year olds (Also where I work and the school I'm referring to)

Middle School - Consists of 9-14 year olds

Higher School - Consists of 14 - 18 year olds

So this kid is the worst in the lower school. I guess he feels like the big man of the school because he's one of the oldest. He swears, he likes to jump over the gate and run out of school, he likes to fight other kids and teachers. He's a nerd that thinks he's a tough bully. Literally. You should see the kid... So today I walk into my class and admittedly, they were much better behaved than usual. Sometimes they're awful. I've asked them to get changed for PE and whilst doing so, the kid is running across the room, distracting others, talking whilst others are being quiet, and just generally being a nuisance. Due to our timetable they get a shorter amount of time for PE than usual so they only have about 35 minutes in the hall opposed to other classes that have about an hour, so it's pretty important they get changed quickly.
So we get in the hall and they begin to practice Netball. As usual, he's getting in other people's way, kicking other group's Netballs away, trying to get involved in everyone's game, and just doesn't want to sit down sometimes. After continuous warnings, I eventually told him he'd be missing Football After-school club at the end of the day; he thought I was joking and laughed it off. A few minutes later I went to the main office and called him to his mother and told her that she'd have to come and pick him up at the end of the day as she has a meeting at the school about he's behaviour anyway. 
Fast-forward to the end of the day, this is where you want to stop here and get your popcorn, I'll wait... Got it? Lets go. The kid walks into after-school club and I tell him to turn back around because his mother's at the main office to collect him. He seems genuinely confused and like he doesn't remember what happened earlier in the day. He left for a brief moment; the rest of the kids started getting changed for the after school club in the hall. All of a sudden, he storms into the after school club, picks up a bench and starts swinging it around and moving it in the direction of the kids and myself. Here's exactly what the bench looks like: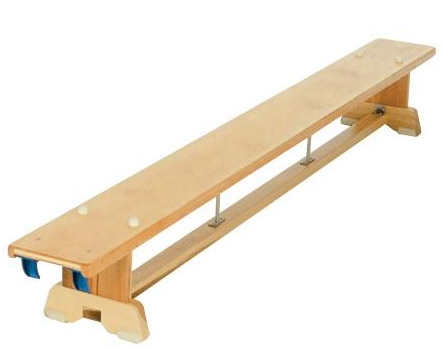 At this point I've had to sacrifice myself for the kids. I'm kidding... If you kids haven't got common sense to run when someone's swinging the bench than I'm saving myself; idk for you. So I've evacuated the hall and the kids have run into the hallway and teachers are starting to scatter in. Eventually he drops the bench because it's pretty heavy, and uses his foot to stamp on the metal pole holding the bench up-right. He breaks the pole off and then hits me in my side with it. This is where it took me 3.5 seconds to conclude that I do not mind losing my job at all today for this little prick. I then approached him and he throws a chair at me which I caught, and as I'm approaching he's swinging his hands everywhere; he managed to connect with my face slightly but it wasn't too hard at all. Here's when I nearly lost my job. I began to grab the little kid back and start to shift him towards to wall; I've got one hand holding both of his hands and I'm now kicking at his legs slightly so he falls to the floor. A teacher I'm pretty close with advised me to leave it to her, go and sit in the staff room before I lose my job. 
At this point I'm sitting in the staff room and then the teacher comes in and tells me to hurry up and lock myself in the toilet because he's coming 
 This is where I got my Drilliam Shakespeare on and said "fuck that shit, let him find me, come lets go, he better get his ride on."
So yeah.. How I nearly lost my job. It's not the first time he's done something like this. He hits on other kids and has actually scarred a kid's face with a metal object before. It's beyond me how he hasn't been excluded from the school yet. There's a little discomfort in my side from the metal pole but I'm hoping there's a scar there so I have more evidence for when I opt to get him kicked out. 
I can't wait to see this little kid next week...